The Pathway

Up to 8 Semesters of Proficiency Technical Training in the SM Biotech Training Center


Career Project Field Trips


Job-Shadows


Industry Laboratory Internship


Independent Laboratory Research Projects

---

The San Mateo Biotechnology Training Center
is located on the Poplar St. side of the San Mateo High School
campus at 506 N. Delaware St. San Mateo, CA 94401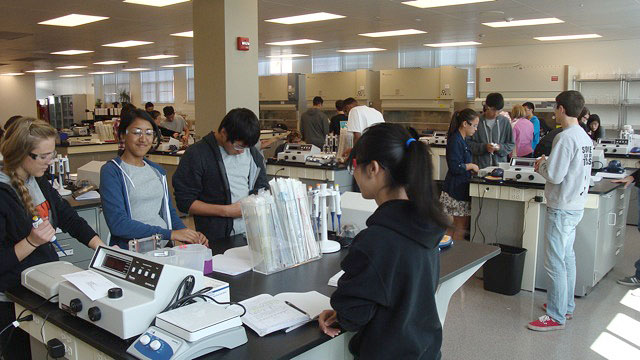 The Training Center includes 16 research stations, adjacent
equipment areas, storerooms and a computer research area.
(See Slide Show of Students in Action)


---
Our Student Interns

High School Students from all over SM County

16 years or older with Biology 1-2 and G=C unit
Minimum completion of Biotech 1-2
Minimum 240 hours in the lab before placement
Are covered with Worker's Compensation and Liability Insurance by SM County ROP
Are mature, responsible, ready to benefit from their training, and demonstrate workplace etiquette
---
Where Pathway Students Come From and Go To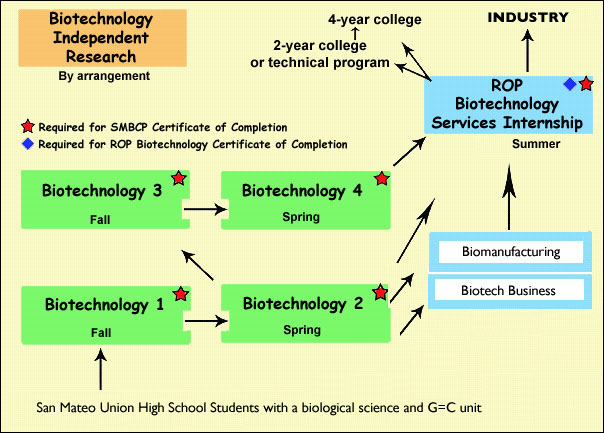 ---
Pathway Curriculum/Training using
Biotechnology: Science for the New Millennium

Biotechnology 1

Introduction to Standard Laboratory Operating Procedures (SLOP)
Proficiencies in safety, documentation, maintaining a legal scientific notebook, following written & oral instructions, experimental design, pipeting, micropipeting, mass measurement, solution/media/buffer preparation and dilution, sterile technique, cell culture, DNA isolation and gel analysis, protein analysis, Word®, Excel®, written communication
Biotechnology Company Stock Investment Semester Project
Biotech Company/Research Facility Field Trip



Biotechnology 2

Focus: rDNA Technology and Recombinant Protein Production
Assay development, amylase studies, VIS spectrophotometry, pH measurement, buffer preparation, restriction enzyme digestion analysis, E. coli transformation, gel electrophoresis, scaleup of broth cultures, protein purification and chromatography
Career Project/Field Trip



Biotechnology 3

Focus: Agricultural Biotech and Pharmaceuticals
Plant Breeding, asexual plant propagation, plant tissue culture, plant genetic engineering, statistical analysis, more sterile technique/media prep/buffer prep, compound extractions from plants, plant DNA and protein extractions, UV spectrophotometry, organic synthesis, testing compounds for activity.
Product Pipeline Sales and Marketing Project



Biotechnology 4

Diagnostic Biotechnology
Protein analysis (gels, western blots, ELISA, column chromatography)
DNA analysis (DNA synthesis, PCR, DNA Sequencing)
Experimental optimization
Job Shadow Project/Field Trip



ROP Biotech Services Industry Internship

Students are placed into unpaid lab internship
60 hours of additional training before placement
Spring Internship = 10 hrs/wk for 12 weeks
Summer Internship = 20 hrs/wk for 6 weeks
ROP provides Workman's Comp. & Liability Insurance
Many interns continue into employment



---
How does a Student Signup for Biotechnology class at San Mateo High?





For Biotechnology 1 classes offered during the traditional school day:

SMHS students sign-up with their SMHS counselors during the regular scheduling period.

Students from other SMUHSD schools sign-up with Mr. Jimmy Ikeda, SMHS Biotechnology Teacher (jikeda@smuhsd.org) and notify their home school counselors that they want to take Biotechnology 1 during the traditional school day. SMHS day classes are taught in block schedule. To be able to take Biotechnology 1 during the school day, students from other schools must arrange their schedules to be able to be at SMHS for Biotechnology 1 every class day and on time. 2 weeks into the semester, SMHS will officially notify the home school of the students enrollment in the class. Grades are entered onto the students transcripts at the end of each semester.


For 2013-14, 8° Biotechnology 1-2 (T&Th 3:40-5:55 pm) or 9° Biotechnology 3-4 (T&Th 6:00-8:10 pm):

SMHS students sign-up with their SMHS counselors during the regular scheduling period and must also sign-up with Ellyn Daugherty, SMHS Biotechnology Teacher (ellyn@bioteched.com). Ms. Daugherty maintains the "sign-up list" that is used to establish a waiting list. Make sure you are on both her list and the counselor's. Ms. Daugherty needs your name, address, phone #, email, school of record, and student ID#.

Students from other SMUHSD schools sign-up with Ms. Daugherty, SMHS Biotechnology Teacher (ellyn@bioteched.com). Ms. Daugherty maintains the "sign-up list" that is used to establish a waiting list. Make sure you are on her list. To be able to take Biotechnology 1-2 or 3-4 after school or in the evening, students from other schools must arrange their schedules to be able to be at SMHS for Biotechnology 1-2 or 3-4 every day and on time. Ms. Daugherty needs your name, address, phone #, email, school of record, and student ID#. Extra-curricular conflicts are not acceptable reasons to miss a class or to be tardy to class. 2 weeks into the semester, SMHS will officially notify the home school of the students' enrollment in the class. Grades are entered onto the students transcripts at the end of each semester.


Adults and non-SMUHSD students

Adults students are not being admitted to SMBCP courses at this time. Adults should pursue biotech coursework at Skyline Community College, Foothill Community College, or Ohlone Community College. San Mateo County high school students from non-SMUHSD schools, should email Ms. Daugherty, ellyn@bioteched.com
---
How can a Company Partner?

Informal Partnership

Allow for Career Projects/Job Shadows
Help set-up a Surplus Donation Program
Explore other avenues of support such as tours, speakers, scholarship programs...



Formal Partnership (Internship Sites)

Sign an internship contract
Allow for mentor recruitment (primarily by Jimmy Ikeda, ROP Biotechnology Teacher) and internship placement

Benefits of Industry Partnership

For SM Biotech Career Pathway Students

Higher level training/experience/practice
Connections/contacts
Possible employment



For Biotech Company

Low-cost, semi-skilled temps
Future, satisfied employees
Try it before you buy it
Support science education
Positive Public Relations
Setting Up a Partnership

Have "Legal" review contract. Sign contract.


Decide on Mentor Recruiting Technique.


Prospective Mentors send Interns Description to:
Jimmy Ikeda
Biotechnology Instructor
San Mateo County Regional Occupational Program
(jikeda@smuhsd.org)


Jimmy arranges student interns interviews, makes and monitors placements.
Partners in the Biotechnology Career Pathway include:

---
Role of Industry Mentors
We have had Industry mentors from all of the following departments.

Research and Development
Quality Control
Quality Assurance
Fermentation
Manufacturing
Assay Services
High Throughput Screening and more..



Our Mentors have a wide background of experience. Some are:

Scientists
Research Associates
Research Assistants
Lab Technicians
---
Anatomy of a Mentor-Intern Relationship
The objective of a ROP Intern-Mentor Partnership is to provide a positive experience for both the adult mentor and the student intern.
An internship is defined as an extended, laboratory experience in which student interns improve their technical skills while learning the dynamics of a biotechnology research facility. Interns should become productive for their mentor.
ROP internships require students to spend a minimum of 120 hours in the workplace. Those hours are arranged between the mentor and the intern but should average approximately 10 hours per week during the spring term and 20 hours per week during the summer term.
Mentor Responsibilities

Compose a short internship job description and a short personal statement. (See example)
Email the internship description to Jimmy at jikeda@smuhsd.org, 2 weeks prior to interview week.
Interview 3 students who hoped to be placed in their internship. 30 min. interviews are conducted on one day, at the industry site, in mid-June.
Rank interviewed interns in order of preference for placement into the lab.
Provide (either directly or indirectly) meaningful workplace experience for the student intern.
Complete a student evaluation once a month. Document weekly timesheets.
Relay concerns about intern performance to either the student, the ROP Instructor, or both.



Intern Responsibilities

Come prepared and on time to all interview and workplace experiences.
Communicate any conflicts in schedule or problems in the workplace with both their mentor and the ROP instructor.
Follow all safety rules, proprietary rules, and workplace etiquette.
Maintain accurate records, and a legal scientific notebook as necessary.
Read, listen, think about how and what is being done in the lab. Ask clarifying questions.
Complete internship projects to the satisfaction of the mentor.
---



Questions, Comments, Concerns, Donations may be directed to:

Ellyn Daugherty
Biotechnology Educator, San Mateo High School, Retired
Author, Biotechnology: Science for The New Millennium, 2012
650-400-9424
ellyn@bioteched.com
www.BiotechEd.com


Marvin Gin
mgin@smuhsd.org






Read Examiner.com article on Ellyn's new textbook, Biotechnology: Science for the New Millennuim



*** Ellyn Daugherty receives the First National Biotechnology Teacher-Leader Award ***
Read Press Release | Read San Mateo Daily Journal Article